Visitors: 1273
OUR SCHOOL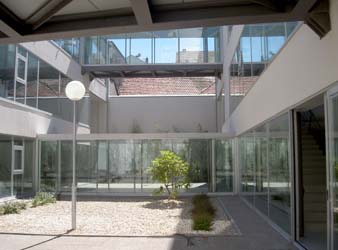 The Escola Oficial de Idiomas de Ferrol is located in the very centre of Ferrol. It's a state-run language school dependent on the Consellería de Educación. There are Escuelas Oficiales de Idiomas throughout Spain. Right now six languages are taught in our school (English, French, Galician, German, Italian and Portuguese).
Language learning in the school is divided into three stages: Elementary Stage (2 years) Intermediate Stage (2 years) and Advanced Stage (2 years)
At the end of each of these stages the student receives an official document certifying their level of competence in the language they have learnt.
Our school is very active and dynamic where the learners have a participative role at all extends
STUDENTS
EOI of Ferrol admit 2000 students approx. every year.
Our students come from very diverse and varied backgrounds. The minimum age is 14, although the majority are adult learners –university students, housewives, pensioners- who share a common interest, which is to learn languages and to get to know the culture and customs of the country whose languages they're learning.
RESOURCES
The teaching board is composed of 35 teachers. In addition, we receive the cooperation of language assistants coming in every year from different European countries, such as France, Germany and Italyand the UK, and also from the USA. These are some of the school facilities: multimedia laboratories, library, 19 classrooms, a cafeteria, assembly hall.
ACTIVITIES
- The school cooperates regularly with cultural institutions in the area and other education centres.
- Cultural Week: for three days a year,the school changes its ordinary activity into non-stop cultural events like mucic, dance, cinema, art, conferences, gastronomy and different workshops.
- School magazine Diálogo: with articles written by our students in the 6 different languages.
- School trips to the countries whose language is being learnt at the school.
- Cultural activities all the year around because an important part of our teaching curriculum is the cultural background of the countries whose languages we teach.
For information about our school, click here