Visitors: 1447
RECIPES FROM POLAND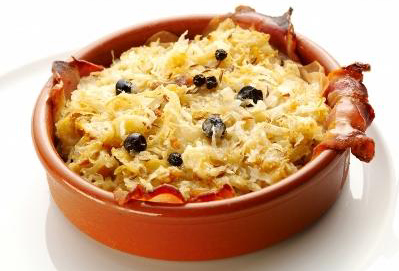 RECIPES FROM POLAND
CHEESE FILLING:
1 lb. farmer cheese
3 tbsp. sugar
2 egg yolks, slightly beaten
Fresh chopped chives
Pinch salt and pepper
4 tbsp. mashed potatoes (optional)
DOUGH:
4 lg. eggs, slightly beaten
2 tsp. salt
2 c. plus 4 to 6 qts. water, divided (use an additional 4 to 6 qts. for cooking if frozen - see directions)
5 c. flour plus 1/2 c. for rolling dough
1 tbsp. oil per doz. (if you freeze them)
3 tbsp. butter per doz. (for frying after freezing)
To make Sauerkraut Filling: Drain and rinse sauerkraut. Place in pot with water and salt. Bring to a boil and add onion which has been sauteed in 4 tablespoons of butter. Simmer until all liquid cooks out. Cool before filling pierogi. Makes enough to fill about 40 pierogi.
Hi , dear partners,
below you can find a recipe for a very traditional Polish dish called pierogi (dumplings).We hope we can cook them for you when we are in Italy.
Greetings,
To make Potato Filling: Melt butter in medium saucepan and saute onions until translucent, about five minutes. Add onions and cheese to hot mashed potatoes. Mix until cheese melts and potatoes take on a cheesy color. Let cool before filling. Makes enough to fill about 40 pierogi.
To make Cheese Filling: Break up cheese into small pieces. Mix cheese with sugar, egg yolks, salt, pepper and chives until well blended. Makes enough to fill 40 pierogi.
To make Dough: In a bowl, mix beaten eggs with salt, oil and one cup of the water. Add the five cups of flour gradually, mixing with a wooden spoon to blend well after each addition. Do not overmix. Dough should be stiff.
Form dough into three balls. roll out first ball about 1/8 inch thick, using the remaining flour for dusting the surface. Use a 3 1/4 inch circle cutter to cut out individual pierogi (a common cup of a medium sze works just fine). Repeat with each of the other two dough balls. You should get 25 to 30 pierogi from each dough ball. Dipping a pastry brush into the remaining cup of water, brush each pierogi just before filling. Put one tablespoon of filling of your choice in each pierogi and fold in half, making half a circle and pinch together.
In a large soup pot, bring four to six quarts of water to a boil. Working in batches of 10 to 12 pierogi for a six quart pot (more or less, depending on the size of your pot), let the water return to a rolling boil and pierogi boil just until they rise to the top, about six to eight minutes. Then let them boil another 1 1/2 minutes. Remove with a slotted spoon and serve immediately or fry pierogi in three tablespoons of butter for one minute, turning to cook evenly, then serve with sour cream.